Birmingham Writing Tutors
Regardless of the grade level, a student will have to perform writing exercises and complete writing assignments. And if the student needs help catching up with the writing skill requirement in their specific grade level, Troy Tutoring Center can offer personalized tutoring services to help them improve and eventually excel!
Our team of Birmingham writing tutors is a group of skilled, knowledgeable, and experienced one-on-one instructors who cater to K-12 students. We utilize a unique system complete with well-honed teaching methods that will allow us to meet your child's particular needs appropriately. Our goal is to help each of our students meet their grade level standards and be able to excel after finishing a number of after-school tutoring sessions.
Whether your child is dealing with attentional, behavioral, and learning disabilities or simply lacks focus or motivation, we will employ a teaching method that will better engage their mind and help them perform more impressively. And even better, our writing tutors help not only students who are falling behind but also gifted kids in advancing their writing skills.
The bottom line is that if you want to see substantial, quick progress in your child's writing skills through an engaging and personalized learning process, call Troy Tutoring Center for a high-quality tutoring service. We are dedicated to helping you set your child up for long-term academic success!
Call Troy Tutoring Center today at (248) 936-6359 for your Free Diagnostic Assessment and Free Consultation with a trusted Birmingham Writing Tutor!
One-To-One Writing Tutoring
Even kids of the same age and grade level don't have the same way of learning. You can't simply assume that they'll understand and retain information in the same manner and timeline. That's why you should choose to work with one of our accredited Birmingham writing tutors; your child will be in one-to-one tutoring sessions where instructions and methods will be tailored to their specific learning ability.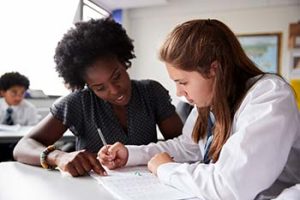 We will first conduct an assessment to gauge the current level of your child's writing skills and get a clearer idea of their learning style. We can then develop a personalized lesson plan with activities that are appropriate for your child's age and mental capacity. Unlike other tutoring centers and school-based programs, we won't simply put your child in a busy classroom but rather give them personal writing tutors who can give them undivided attention during sessions.
We also utilize the Rotational Approach to Learning so you can ensure that your child will be participating in engaging, mind-enriching activities. Our writing tutors will help them focus and learn more by using different stations and captivating materials to keep them interested while still retaining useful information. So if you want to make sure that your child will have improved writing skills as efficiently as possible, our writing tutoring sessions are investments that will certainly not let you down.
Honing Basic Writing Skills
The introduction to basic writing skills is a fundamental lesson that we offer to every student. Even gifted kids and older students can make use of this as a refresher course if they want. Assessing the child's mastery of basic writing skills—such as spelling, punctuation, capitalization, sentence structure, vocabulary, and even handwriting and keyboarding—can also make it easier for us to decide how to proceed with the lessons.
Proper Spelling and Punctuation Marks
Spelling words correctly and using proper punctuation marks are two things that commonly trouble students. This is because the written language has a separate set of rules that can make it more challenging than the spoken language, which is especially true when it comes to the English language.
Quirks and inconsistencies can make it harder for students to get their spelling right. There are also rules when it comes to using punctuation marks that won't matter in the spoken language, which can make it difficult for students to remember them. Fortunately, that's what we're here to address. Our writing tutors will help you become better at spelling and using different punctuation marks through a series of learning activities designed for your specific needs and current abilities.
Reading Comprehension and Expanded Vocabulary
Before a student can effectively write, they need first to learn how to read and understand what they've read. We will help your child get better at reading comprehension, allowing them to understand the meaning of a particular piece of writing and, at the very least, be able to do the following:
Read and understand the meaning of the words used in the text.

Look up the definition of any unfamiliar word.

Understand the words used in a sentence, paragraph, and the whole text so they can understand the meaning of the entire written piece.
With improved reading comprehension, your child will not only be better at writing original compositions but also have an easier time understanding texts/lessons in other academic subjects. Additionally, it can lead to your child's growing love for reading which will result in a more advanced vocabulary. And if their vocabulary is exceptional, effective writing will come easier to them as well.
Structuring Sentences and Paragraphs
Knowing how to construct proper sentences and paragraphs is an essential skill that we can teach your child. This will allow them to express their thoughts in a comprehensible and interesting written piece.
While consistent reading and writing practice can help develop this skill, we'll also dedicate lessons specifically for this area. We will teach our students about using proper tenses, correct placement of verbs and modifiers, and how not to write incomplete and run-on sentences. We'll make sure that your child will know the various parts of speech and learn how to use the different types of sentences correctly (e.g., declarative, descriptive, inquisitive, etc.) in their writing.
Whether you need our writing tutors to help your child improve a particular skill or you want all-around tutoring sessions for better results, trust that our Birmingham writing tutors will be able to tailor a personalized lesson plan for your kid. And at the end of our sessions, we guarantee that your child will be better at expressing their thoughts through written words!
Mastering Different Types of Writing
Aside from mastering the fundamental writing skills that every student should learn, our tutors will also help your child become familiar with the different types of writing required in their grade level. Our goal is to help our students learn the proper format, word usage, and sentence structuring appropriate for a specific type of written piece. Through our lessons, your child will be able to tailor their writing based on the audience and the intended purpose of the written text.
Some of the different types of writing that we can teach your child are the following:
Academic essays

Laboratory reports

Book reports

Prose

Poetry

Scripts

Speeches
…and a lot more!
Regardless of what specific written piece your child is finding difficult, we can help them have a better grasp of it through engaging writing practices and captivating lessons.
Advanced Writing Tutoring
Our Birmingham writing tutors are not only offering our premium tutoring services for children who are falling behind in their lessons. We are also catering to the more advanced needs of gifted kids who wish to improve their writing skills beyond what's required in their current grade level.
Additionally, we also offer special lessons for students in grades 11 and 12 who are about to take their SAT and ACT. Our tutors will help them prepare and sharpen their writing skills so they can achieve impressive scores that will ease their acceptance into their dream colleges or universities. And while the SAT and ACT have a slight difference in their focus upon assessing a student's writing skill, our lessons are as comprehensive as they can get—guaranteeing an overall improvement in your child's writing prowess.
Reliable Birmingham, MI Tutoring Center
At Troy Tutoring Center, our goal is to help pave the way for our student's long-term academic success. That's why in addition to employing accredited tutors with exceptional skills and experience, we also developed a fully functional system that's continuously proven to help shape young minds to be more focused, productive, and overall better performing.
We take pride in our comprehensive one-to-one tutoring sessions wherein we dedicate undivided attention to your child as we help them improve in one particular subject or more. By not putting your child in a busy classroom and expecting all of the students to learn together at the same time, we can better assess your child's progress and tailor our lessons to their learning style and capacities. This will lead to improved interest and concentration on your child's part, which will eventually result in quicker, substantial academic progress.
Additionally, our rotational approach to learning is another key to our years of tutoring success. With this method, we can better aid in the academic progress of students by enhancing their concentration and overall love for learning. Even students facing attentional, behavioral, and learning issues can achieve significant progress through this method.
More importantly, we don't only offer writing tutoring services alone. We also offer after-school tutoring sessions concentrated on the following areas:
Reading

Math

English

SAT preparation

ACT preparation
Free Consultation
If your child's writing skill is not up to par for their current grade level, you can help them see considerable improvement with our writing tutoring services at Troy Tutoring Center. We guarantee quicker progress compared to other learning programs with the help of our one-to-one tutoring sessions that tailor lessons to each of our student's needs and learning capacities.
Also, our writing tutors are fully capable of providing gifted kids with advanced writing lessons. We are even more than happy to help older students prepare so they can ace the writing skill assessment part of their SAT and ACT.
Call Troy Tutoring Center today at (248) 936-6359 for your Free Diagnostic Assessment and Free Consultation with a trusted Birmingham Writing Tutor!