Sterling Heights Geometry Tutors
Geometry, like other branches of Mathematics, can be difficult for a lot of students to master. This is especially true for higher-level geometric concepts that require more in-depth discussion so students can properly analyze and understand the involved properties in certain problems.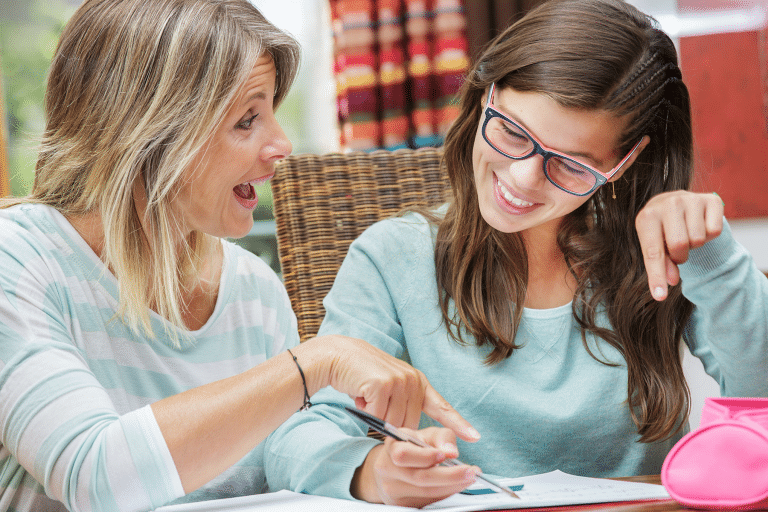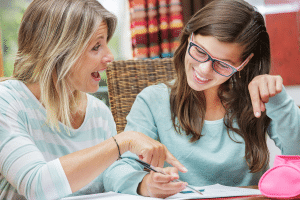 Fortunately, you can help your child move from barely getting a "C" in their Geometry class into performing better and actually coming up on top. With the help of our accredited Sterling Heights Geometry tutors, your child will have a fun yet mind-enriching time during our one-to-one tutoring sessions that aim to give them a firm grasp of geometric concepts in a more efficient way.
At Troy Tutoring Center, we don't put our students in a group where there's a risk that one of them will still fall behind, much like what often happens in the traditional classroom. Instead, we pair each student with a skilled tutor who will pay close attention to their learning progress and tailor activities to help them see quick progress, all while setting them up for long-term academic success.
So if you want your child to improve their Geometry skills to pass their classes, help your 12th grader prepare for the Geometry questions in the upcoming SAT and ACT, or simply nurture your gifted kid's desire to advance their current Geometry knowledge, allow us to help them reach their maximum potential today!
Call Troy Tutoring Center today at (248) 936-6359 for your Free Consultation with a trusted Sterling Heights Geometry Tutor!
One-To-One Geometry Tutoring
As mentioned above, Troy Tutoring Center believes that paying adequate attention to every student's unique learning needs can make all the difference in their overall academic progress. That's why should you choose to work with one of our Sterling Heights Geometry tutors, we'll make sure that your child will fully understand each geometric concept before moving on to the next one.
Our individualized one-to-one tutoring sessions offer a highly conducive learning environment for your child. We can easily tailor our lesson plans to cater to your child's age, proficiency level, learning style, retention capacity, and thought process while addressing their specific learning issues. This way, your child will have a better time learning about Geometry and will be under no pressure to keep up with a faster pace.
We also utilize a rotational approach to learning so your child will be constantly engaged and interested in our learning activities. In this method, students will get to study in different stations and use various sets of learning materials for better understanding. This also helps them keep more focused since they won't get bored with a monotonous routine.
Interactive Geometry Tutoring Sessions
All K-12 students will get to study Geometry at almost every grade level. It starts from identifying simple shapes to the more advanced analysis of the relationships between sizes, shapes, positions, angles, and dimensions of things. And if your child needs additional help to be adequately proficient in the area, our Sterling Heights Geometry tutors are fully equipped to help.
We will take into consideration the age and learning style of your child, so we can tailor activities that are both fun and informational. We'll also make each tutoring session as interactive as possible, allowing your child to better understand each Geometric concept by actually participating in creating visuals, analysis, and arriving at conclusions.
Our goal is to motivate them to continue learning while enhancing their retention level at the same time. So whether your child is in elementary, middle school, or high school, trust that Troy Tutoring Center will not just improve their Geometry skills but also help them develop healthy learning habits and reach their full academic potential.
Geometry Tutors for Gifted Kids
If your kid is blessed with more advanced mental prowess, chances are the average pace of Geometry lessons in their classroom can easily become boring. This can cause your kid to pay less to little attention to class since lessons are too easy for them.
The danger in this is that gifted kids may turn their attention to less ideal things or leave their learning skills undeveloped since they got accustomed to very easy lessons, making it surprisingly tough for them to grasp harder concepts as easily as they did before. However, you don't need to rely entirely on the traditional school system to satisfy your gifted kid's hunger for knowledge.
At Troy Tutoring Center, our knowledge Sterling Heights Geometry tutors are fully capable of helping gifted kids reach their full potential. Whether in Geometry, other branches of Mathematics, or other subjects altogether, we can tailor lesson plans that will best keep their interest in learning.
We will modify our lessons so your kid can divulge more complex problems, learn real-life applications of geometric concepts, and ask more complicated or in-depth questions that otherwise cannot be fully entertained in the traditional classroom setting.
ACT and SAT Preparation with Accredited Geometry Tutors
Both SAT and ACT will assess your child's understanding of the fundamental concepts of Geometry. Questions in the SAT tend to center around concepts involved in the geometry of lines, angles, triangles, circles, and other geometric objects. Finding the area, surface area, or volume of an abstract figure or a real-life object will most likely be required as well. The ACT also has a considerable amount of geometry-centered questions in its Maths section, making up at least 12% of it.
So if you want your child to enter a good college, securing an impressive score in Geometry is crucial but can easily be attained with the help of our skilled Geometry tutors at Troy Tutoring Center. We help students in reviewing the Math concepts, not only in Geometry, that are more likely to come out in both SAT and ACT. We aim to make them understand the entire concept and not just a specific type of question so that no matter how the problem is presented, they know what answer to look for and what formula it requires.
And aside from reinforcing their Geometry and Maths skills, we will also teach them test techniques that will allow them to reach their goals easier. If your child wants to reach a 100% score as much as possible, we'll help them hone their time-management skills. Others may also work best by focusing on easier questions first and then just going to the harder questions by the end. There are other techniques that we can share as well, so don't waste time and enroll your child in our ACT and SAT preparation tutoring session now!
Reliable Sterling Heights, MI Tutoring Center for K-12 Students
Mathematics is typically the subject where a lot of students will fall behind—Geometry is no exception. This branch of Mathematics is equation-heavy and will require good analytical skills to get problems solved. There are many theories, concepts, and formulas involved that will only get tougher to master as you progress into higher-level Geometry lessons.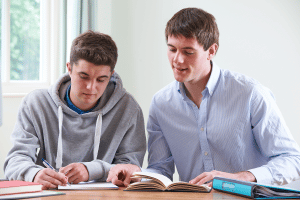 Fortunately, your child can quickly improve their performance in their Geometry classes through our high-quality teaching system at Troy Tutoring Center. Every student that we have will be paired with a highly skilled and knowledgeable Geometry tutor who will focus on each of their unique learning needs so they can better understand the lessons while still enjoying the quest for knowledge.
More importantly, we offer more than just Geometry tutoring services. We can also help your kids excel in the following academic areas:
Reading

Writing

Algebra

Calculus

English

SAT preparation

ACT Preparation
Free Consultation
If you want to know more about our tutoring services or you want to get to know our tutors better, feel free to call and ask any questions that you have. We would also love to know about the specific needs your child has, and if you decide that our services match what you want, we can arrange an initial assessment for your child as soon as possible. This is done to determine their proficiency level and learning style, among others.
Once our assessment is complete, we can assign the most suitable tutor to your child and start their personalized tutoring sessions at your earliest convenience!
Call Troy Tutoring Center today at (248) 936-6359 for your Free Consultation with a trusted Sterling Heights Geometry Tutor!