Birmingham SAT Test Preparation Tutors
Are your children preparing to take their SATs? Why not give them an extra boost by enrolling them in one of our SAT test preparation classes in our Birmingham, MI tutoring center, Troy Tutoring Center?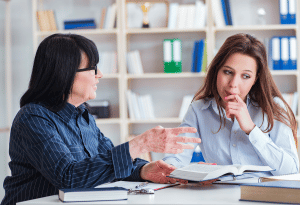 The SAT is one of the many college admissions exams students can take in order to get into their target college or university. The test aims to assess if a student is ready for college and if they have the skills that will help them succeed in their chosen courses. The test's coverage has been revised numerous times, and in 2021, the optional essay portion was removed, and the SAT subject tests were also discontinued.
If your child is taking the SAT for their college admissions test, trust our Birmingham SAT test preparation tutors to help them out. Our SAT tutors will check your child's learning pace and style before personalizing their SAT test preparation sessions accordingly to help them prepare in earnest. Our SAT tutors will also provide them with the resources they would need to master the subjects included in the exam so that when it comes to exam time, they are ready to ace it!
Call Troy Tutoring Center at (248) 936-6359 for your Free Consultation with a Birmingham SAT Test Preparation Tutor!
Structure of the SAT
The SAT has two main sections – Evidence-Based Reading and Writing and Math. These sections are then broken down into four sections: Writing and Language, Reading, Math (no calculator), and Math (calculator allowed). The total time of the test is around three hours and scored on a scale of 200 to 800. Each section's score is a multiple of ten. The total score of the student is then calculated by adding the two sections' scores which can range from 400 to 1600.
Down below are the SAT sections in brief and how our Birmingham SAT test preparation tutors can help you:
Reading
The first portion is the reading test, which is 52 questions long and has a 65-minute time limit. All of the 52 questions are multiple choices and based on the reading passages included in the exam. There are five passages for the test, and some may even have tables, graphs, and charts included in them.
Usually, these passages are from one of three main fields: history, science, and social studies. One of the passages is about US or world literature, one uses a portion of either a US founding document or any related text, one passage focuses on social sciences, and two passages focus on science. The test contributes (with the Writing and Language test) to the two subscores, and each range from 1 to 15 points: Command of Evidence and Words in Context.
Our SAT test tutoring will include lessons on how students can analyze the passage more efficiently and find the keywords they need to answer the questions allotted for each passage. We also have mock tests to help with time management and get a feel of how the exam can go for this portion when they do take the actual test.
Writing and Language
The following section of the SAT is the Writing and Language Test, which is composed of 44 multiple-choice questions and a 35-minute limit. Similar to the Reading test, all the questions are based on reading passages that will have all the information they need to answer the exam. Examinees have to read the passages and provide suggestions or improvements to the contents highlighted in the passages.
The reading passages vary in terms of content, from topic arguments to narratives about several subjects. A student's capacity to argue clearly, pick the right words, provide an astute analysis of the topic, improve the organizational quality and writing of a passage and fix and improve the passage's grammar and structuring is tested in this section. Students also get two scores based on the two subscores in this test: Expression of Ideas and Standard English Conventions.
Our SAT tutors will consider the student's writing and language levels to determine how their SAT test preparation classes should be framed for this section of the test. Like the Reading section, our SAT tutors will help students learn tricks on how they can carefully pick the information they need to answer the questions provided. We will also help broaden their vocabulary and improve their grammar.
Math
Math is the last section of the SAT. Students are tested for their critical thinking skills for this section of the test and will only be given a short reference sheet for some of the questions.
The math portion of the SAT is divided into two sections: the no-calculator-allowed portion and the calculator-allowed section. The first portion gives students 25 minutes to answer 20 math questions, while the second portion covers 38 questions that must be done in 55 minutes. All in all, this portion of the test is 80 minutes long, with 58 questions.
The questions of SAT's math are categorized into four categories, and each section has a consistent number of questions for students to answer.
Heart of Algebra (19 questions): covers linear equations and inequalities, systems of linear equations and inequalities, and graphs for linear equations.

Problem Solving and Data Analysis (17 questions): covers percentages, statistics, probability, graphs, charts, ratios, and proportions

Passport to Advanced Math (16 questions): covers quadratic and nonlinear equations.

Additional Topics in Math (6 questions): covers geometry and trigonometry.
SAT weighs math more heavily compared to the ACT, and if a student is not able to manage their time well, it will be hard for them to accumulate the scores they need to ace this important section. Our SAT exam tutors will not only help your children understand the concepts and calculations needed for this section of the test, but they will also help in creating a working strategy that your child can use during the exam. We even have mock exams to help students learn time management and handle exam pressure and jitters.
Trusted and Experienced SAT Exam Tutors Near Me
When it comes to preparing for the SAT, your child needs all the help they can get to succeed in the exams since it will be their ticket to their dream colleges and universities.
At Troy Tutoring Center, we are dedicated to providing children with all the resources and skills they need for any academic endeavor they have. Our tutoring style allows us to provide one-to-one instruction to our students, allowing them to pick up new concepts, strategies, and techniques at an impressive pace and excel. Once our students see an improvement in their studies and grades, their confidence will also improve immensely and put them on the right course for academic success.
Our Birmingham SAT test preparation tutors are committed to helping your child learn in each session so they can handle the stress brought by the SAT. Even if they are lagging behind their peers, our Rotational Approach to Learning strategy makes sure that they get the assistance they need to keep up and eventually succeed in acing the exam.
Free Consultation Today
The SAT can be one of two things to students: an easy test for them to prepare and excel in or a challenging one in which they need extra tutoring help.
Regardless of your child's situation and reasons for taking the SAT, you can trust our Birmingham, MI SAT test preparation tutors to help your child excel in the exams. We will help them develop the right test skills and become more confident as they take on one of the most important exams in their life. Reach out to one of our SAT exam tutors today by dialing our hotline today, and one of our SAT tutors will be ready to explain our test preparation classes to you.
Call Troy Tutoring Center at (248) 936-6359 for your Free Consultation with a Birmingham SAT Test Preparation Tutor!