Troy Calculus Tutors
A lot of times, Calculus is the highest-level course that's offered in high schools. And if your child is taking it, passing and acing this class will prove beneficial in their college application, especially if they are aiming for top STEM colleges or majors. So if you want to help ensure that they can finish the class exceptionally, call Troy Tutoring Center to schedule a one-to-one tutoring session with one of our top Troy Calculus tutors.
All of our tutors are trained, accredited, and highly knowledgeable not only in Calculus but also in proper teaching methods suitable for each unique student. Whether students are falling behind in their Calculus classes due to a poor learning environment in school, suffering from a more pressing attentional, behavioral, or learning issue, or any other reasons, we can effectively address their weak learning points and help them progress quickly through our personalized tutoring sessions.
We tailor our lessons based on the current proficiency level of your child and their learning style, capacity, and thought process, among other factors. We always ensure that our students are motivated and interested to learn while successfully developing study habits and a love for learning that will set them up for long-term academic success.
More importantly, we don't just offer our tutoring services for children failing their Calculus classes. Our tutors are also fully equipped to help gifted kids become more proficient in Calculus and prepare them for their college journeys as well!
Call Troy Tutoring Center today at (248) 936-6359 for your Free Consultation with a trusted Troy Calculus Tutor!
One-To-One Calculus Tutoring
At Troy Tutoring Center, your child won't be put in a group where lessons are made for the average proficiency, learning pace, and retention capacity of the entire class. Instead, each of our students will receive one-to-one instructions that are tailored to best capture their interest by employing customized activities based on their specific learning style and thought process.
Through our one-to-one tutoring sessions, our Troy Calculus tutors can pay the right amount of attention to your child so that any area of Calculus that they particularly find hard or confusing will be tackled thoroughly until they fully understand it. This prevents the premature introduction of a new concept while the previous one still needs to be fully understood, which is often the case for why students fail Math, especially Calculus.
Our tutors will first assess the current proficiency level of your child and determine their learning style. From there, we can map out the most appropriate lesson plan to maximize their learning while promoting healthier study habits for more long-term progress. We also make use of our rotational approach to learning which allows us to keep our students interested and actively engaged by utilizing different learning stations and varying sets of learning materials.
High School Calculus Tutoring Sessions
Not a lot of high school students in the USA are taking Calculus classes. If, however, your child is one of the few who chose to take the course to gain an advantage as they pursue a STEM major in college, great benefits will come from acquiring the service of one of our Troy Calculus tutors.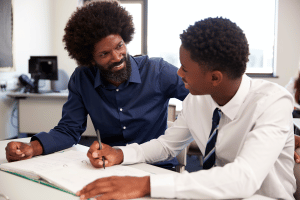 We know how difficult Calculus can be for high school students, so we will tailor a learning system that will make it easier for your child to understand. We will also help your child develop a more positive mindset so they won't approach learning with an already anxious mind when Calculus, or any other branch of Mathematics, is involved.
So whether your child is only concerned about passing or acing their current Calculus class, or they want to gain more advanced knowledge, call Troy Tutoring Center to schedule the earliest tutoring sessions possible.
Our Calculus tutors can help students understand and master the following courses:
Calculus I
In this course, your child will be able to learn about the following:
Limits

Continuity

Derivatives of algebraic and transcendental functions

Basic properties of integration

Techniques of integration and applications
Calculus II
In this course, concepts that will be discussed include the following:
Review of differentiation

Techniques of integration

Applications of the definite integral

Parametric equations

Polar coordinates

Taylor's theorem

Power series

Complex arithmetic

Introduction to multivariable calculus
Calculus III
In this course, included in the topics that will be taught are the following:
Vector algebra and geometry

Linear maps and matrices

Calculus of vector-valued functions

Derivatives of functions of several variables

Multiple integrals

Vector fields

Line integrals
Calculus Tutors for Gifted Kids
Aside from helping struggling students to perform better in class, Troy Tutoring Center also provides in-depth Calculus tutoring services for gifted kids who wish to know more than what their classrooms can offer. We will appropriately adjust our teaching method and learning activities to accommodate your gifted child's learning style, level of perception, and rapid retention pace.
During our one-on-one tutoring sessions, our Troy Calculus tutors will also ensure that your child will be kept engaged with the use of mentally challenging activities. They won't ever be bored with seemingly too easy lessons that might make them lose interest altogether. Instead, we will make sure that they'll become active learners who practice healthy study habits that will help them reach their full potential now and in the long run.
Reliable Troy, MI Tutoring Center for K-12 Students
For considerable improvement in your child's performance in Calculus and other academic subjects, allow our expert tutors at Troy Tutoring Center to help. Our unique teaching system combines the maximum benefits of one-to-one tutoring sessions and our rotational approach to learning.
Through this, your child will be the focus of our tutors and will be adequately provided with motivation and learning tools that will keep them interested, focused, and excited to study. We will also be able to pinpoint their specific problem area when it comes to understanding a subject, allowing us to properly address it for long-term improved academic performance.
Aside from Calculus tutoring services, Troy Tutoring Center also provides tutoring for the following areas:
Reading

Writing

Algebra

Geometry

English

SAT preparation

ACT Preparation
Free Consultation
If you want your kid to gain an advantage in applying for STEM colleges, make sure that they gain impressive Calculus grades with the help of our accredited tutors at Troy Tutoring Center. Our tutoring services will also prove helpful in preparing them for the more rigorous Math lessons in college.
Call Troy Tutoring Center today at (248) 936-6359 for your Free Consultation with a trusted Troy Calculus Tutor!