Birmingham English Tutors
English is considered one of the world's most popular languages, and no matter where people go, English is recognized as a second language. While this may be the case, mastering the language is a whole different matter, and for students who are starting to learn the language's most intricate rules and applications, learning the language can get very stressful.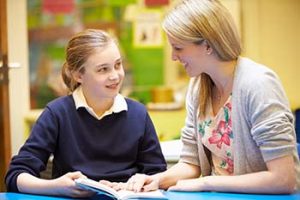 Fortunately, students can get extra tuition and support in learning the language with the help of trusted and experienced Birmingham English tutors. English tutors can provide one-to-one instruction to students who are struggling or need advanced lessons to master the language. They can also help students find more opportunities to practice the language outside the classroom and find new ways to make concepts easy to understand.
Troy Tutoring Center can help any K-12 student learn the basics of English and slowly find their rhythm to master it. Our one-to-one instruction for the subject is tailored to suit any student's goal and learning pace because, for us, we want our students to have no stress at all while they learn this beautiful language. We can even help students who are in the middle of their preparations for their college admissions test and equip them with the right tools they need to ace the exams and gain an appreciation for the language.
Call Troy Tutoring Center at (248) 936-6359 for your Free Consultation with a Birmingham English Tutor!
Common Issues Faced by Students When Learning English
Whether or not English is your first language, learning to be fluent in the language takes work. English is a complex language that requires regular practice in order to prevent making mistakes, even in the simplest of sentences.
Here are some of the common issues faced by students when learning English:
1. Poor vocabulary
Vocabulary is one of the most essential parts of a language, but it can also be the most difficult one to master. In order to speak fluently in the language and write it perfectly, students must master 4,000 to 10,000 words more regularly.
2. Confusing spelling
English has thousands of words that have different spellings and meanings but sound the same once it is pronounced. For example, you have a 'fair' complexion, and the 'fare' is not cheap. If one is not careful, one may confuse people about what they truly mean with their statement.
3. Lack of interaction with different English speakers
A great way to master the language is by interacting with different English speakers since it will help students become more familiar with its use and application. However, if the student does not regularly interact with other speakers and only relies on self-study, it can be difficult to figure out the differences between speakers and speak comfortably with the language.
4. Poor grammar
Mastering English grammar is tricky because of the general yet complicated rules it has, especially when it comes to speaking and usage. It can be tough to memorize these rules and their applications the more advanced the classes become.
5. Confusing slang and colloquialisms
Colloquialisms and slang are also difficult to master, even for native speakers, because of their use in day-to-day conversations. If one is not familiar with their use in the local culture, it can be confusing to figure out which is the right slang or colloquialism to use in certain contexts.
6. Pronunciation
Finally, some students often need help to work with the pronunciation of English words because they do not follow phonetics. Some words may be spelled the same, but their pronunciation is different depending on their context. As a result, some students need clarification on their pronunciation and say a completely different statement than the one they truly intend to say.
Overcoming these problems is easy with the right direction and practice. Our English tutoring services at Troy Tutoring Center can help students head in the right direction in terms of where they need to focus on improving their proficiency in the language. Our English tutors are also ready to make these concepts easier to understand and provide the right examples for easier mastery.
Why Hiring an English Tutor is Best
If your child needs extra help in learning English or they wish to expand their English skills further without waiting for their lessons in school, an English tutor can provide what these students need.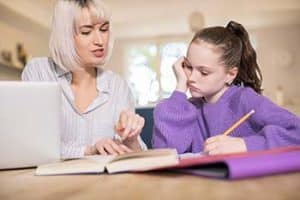 Furthermore, they can also do the following for your child during their sessions:
If your child needs help with their grammar or other points that affect their English proficiency, a tutor can provide them with the right tests to improve on them instead of giving them a general test.

Tutors can also personalize the class to suit your child's needs and pacing. For example, English tutors can use real-life examples for conversations and videos to help students learn how the language is used in certain situations.

They will also make it easier for a child to learn general concepts about the language and its context when in use. This makes it easier for children to learn it quicker and become more comfortable as they use the language.

English tutors can also provide students with regular feedback and corrections to inform them of their progress and what they need to improve on. This helps to improve the student's self-confidence and motivates them to do more.
Our Birmingham English tutors will definitely make your child's journey to mastering English as stress-free as possible and make it fun for them to experience. We will work with both you and your child to get the results you want to achieve in the language.
ACT/SAT English Test Preparations
English is a vital part of both the ACT and SAT, which students need to master in order to pass successfully. Both exams use passages from various sources to test the student's English analytical skills and mastery of the language. Depending on the college or university your child plans to apply to, there may even be an extra essay section that may determine your child's admission eligibility.
During our ACT/SAT English test preparation classes, students will be taught tricks on how to improve their grammar, reading and comprehension, and writing. Students will also be given mock exams to become familiar with the type of passages and questions that will be in the exams, as well as how they can respond to them. Our ACT/SAT English test preparation classes can be combined with our other ACT/SAT preparation classes for Reading and Mathematics.
Dedicated Birmingham, MI English Tutors Near Me
When it comes to dedicated and fun Birmingham English tutors, we have them at Troy Tutoring Center!
Our English tutors are dedicated to making English fun to learn for all K-12 students who need extra tuition to keep up with their peers or wish to learn more about the language. We are very flexible in terms of how our personalized tutoring sessions will go to match our students' learning pace and style. They will also get a variety of opportunities to practice the language during our tutoring sessions. We will also provide them with one-to-one classes to allow them to get the instruction they need to master the language and a chance to ask questions without being embarrassed.
When you reach out to Troy Tutoring Center through our hotline, one of our English tutors will be assigned to your child and determine their current English proficiency. Once that is determined, the tutor will plan out the English tutoring sessions your child should attend and explain how it will go so you know what to expect. If you are requesting either our SAT/ACT preparation tutoring or other tutoring services, we will discuss the schedules and the format of the sessions.
Troy Tutoring Center also offers other tutoring services for Reading and Comprehension, Alegbra, Geometry and Calculus. To avail yourself of our services for your child or combine it with their English tutoring sessions, let us know during our free consultation.
Free Consultation Today
English is not an easy language to master, but if one learns it at a young age, mastery is not impossible to achieve. Whether English is your child's first language or their second, you can trust Troy Tutoring Center to provide your child with the extra support they need to master the language and use it effectively in any given situation.
Our English tutors are always ready to provide your child with the English tutoring classes they need to succeed in the subject and become confident in using the language in everyday life. Contact our Birmingham, MI English tutoring center today to find out more about our tutoring services, and we'll schedule your child's session with us to get them started!
Call Troy Tutoring Center at (248) 936-6359 for your Free Diagnostic Assessment and Free Consultation with a Birmingham English Tutor!