Bloomfield Hills ACT Preparation Tutors
Are you looking for a trusted and well-known ACT test tutoring center that can help your child prepare for the exam? When in Bloomfield Hills, MI, Troy Tutoring Center is the tutoring center where you can sign up your children so they can prepare for their exams at a suitable pace for them, become confident in facing the exams head-on, and succeed in the process.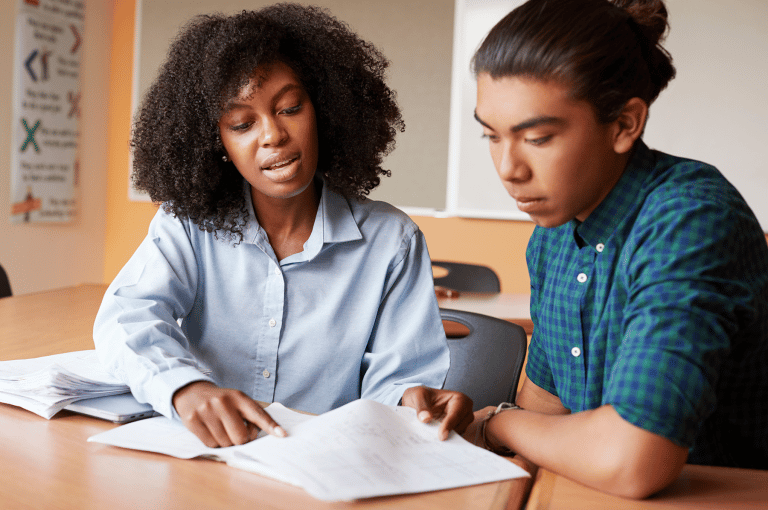 The ACT, or the American College Testing exam, is one of the most popular standardized tests used by US colleges and universities to determine if students are ready to handle college-level work. Much like other standardized exams, the ACT has revised its coverage to test students' problem-solving skills and reasoning. It also covers a wide range of subjects, including a writing test if it is required by the college and university they plan to enroll in.
The Bloomfield Hills ACT preparation tutors at Troy Tutoring Center are ready to help your child prepare for the exam and manage the stress it could bring to them. Our ACT tutors will personalize the classes to suit your child's learning pace, and they will also make sure that your child understands the concepts that will be in the exams, as well as be equipped with the techniques and resources they need to ace the exam in flying colors.
Call Troy Tutoring Center at (248) 936-6359 for your Free Consultation with a Bloomfield Hills ACT Preparation Tutor!
The Format of the ACT
The ACT is divided into four multiple-choice subject tests: English, Reading, Mathematics, and Science Reasoning. The scores for each subject range from 1 to 36, and if the students are required to take the optional writing test, they will receive an additional score that ranges from 2 to 12.
If a student answers a question correctly, they get one raw point, and there are no penalties for marking incorrect answers on the multiple choice questions. A student doesn't have to worry about getting a score deduction because of incorrect answers. Students can retake the exams if they are not satisfied with their scores. Our Bloomfield Hills ACT preparation tutors can help your child understand how each section of the ACT works and prepare accordingly.
Down below is a brief rundown of how the ACT's format works:
English
The English section of the ACT is a 45-minute test that tests English usage and mechanics, sentence structure, and rhetorical skills. The exam has 75 questions with five passages divided into various sections underlined on one side of the page and with options for the students to read and pick from to correct the underlined portions in the passage. There is also a section focusing on usage and mechanics, such as the use of commas, apostrophes, modifiers, fragments, and colons, and a section on rhetorical skills.
For this section of the exam, our ACT tutors will check your child's English proficiency and see which areas need work. Once we identify these parts, we will prepare the right lessons for your child to take as part of their ACT test preparation and provide them with resources they can review to expand their English mastery.
Math
Unlike the SAT, the math portion of the ACT is a continuous section that will run for 60 minutes and involve 60 questions. Students are tested to see how fast they can perform calculations, and there are no reference sheets given in the test. The test is all multiple choice with five answer options available.
The questions are divided into two categories and each one of these categories, as well as its sub-categories, has a specific percentage of questions. Between two categories, the first category, 'Preparing for Higher Math, ' covers most of the exam. The two categories and their coverage are as follows:
Preparing for Higher Math

Number and Quantity- Includes real and complex numbers, vectors and matrices, integers, and rational exponents

Algebra – Includes linear, polynomial, radical, and exponential equations

Functions – Includes linear, piecewise, radical, polynomial, and logarithmic functions

Geometry – Includes trigonometric ratios, shapes and solids, and equations of conic sections

Statistics and Probability – Includes spread of distributions, calculating probabilities, and data collection methods
Integrating Essential Skills – This category includes rates, percentages, area and volume, proportions, equivalent expressions, and problems that combine all the sub-categories under the Preparing for Higher Math section.
Our ACT exam tutors will help your child understand the concepts covered in the exam and provide them with mock tests to familiarize themselves with how much time they should allot to every question. Considering the coverage of the section, we will make sure students master the formulas and calculations that will be included in the exam and identify the right formulas required for each question.
Reading
The reading portion of the ACT covers 40 questions which are divided into four sections, three are focused on one long prose passage, and the other section uses two shorter prose passages. The passages are used to represent the level and type of text that a first-year college student will encounter in their first year.
The test also checks the student's skill level in the following categories: craft and structure, key ideas and details, and integration of ideas and knowledge. The questions will ask students to find the meaning of the texts and figure out their exact meanings. For example, questions will ask students to use their reasoning skills to identify the main idea, interpret it and make the right comparisons, as well as determine their author's voice.
For this reading portion of the ACT, our ACT tutors will provide students with sample passages from past ACTs to show them what type of questions and passages they will encounter. We will also show tricks on how these passages can be dissected and pick out the keywords to the correct ideas meaning being inferred in the passage. Our mock exams and preparation classes will also include lessons on sentence creation and grammar.
Science
The third part of the ACT is the science test which is a 35-minute, 40-question long exam. Like the other parts of the exam, the science section features seven passages, each with five to seven questions. The passages can either be in one of three formats: Data Representation, Research Summary, and Conflicting Viewpoints. Although the previous iterations of the exam always had predictable exam questions for each format, this has changed in recent years to make it a surprise to students. However, there will always be one Conflicting Viewpoints passage for this part of the exam.
Our ACT exam tutors will provide students with a variety of passages from topics that will be covered in the test and show the strategies needed to interpret the data accordingly and how to provide counterarguments. We will also have practice tests to test the student's time management in dealing with each type of question for this test.
Writing
The optional writing section is the final part of the ACT. It is 40 minutes long, and students do not need to memorize any essay structure for it. However, it must be written as a prompt response to the topic provided. Usually, the topics for this section involve social issues, and students have to provide their opinion on the three perspectives provided. It is important to note that the essay scores do not influence the English score, but some colleges and universities do consider this section when determining a student's admission.
Our Bloomfield Hills ACT preparation tutors can combine the preparation tests and lessons for writing with the English section of the test. Our tutors can also provide additional tips on how students can organize their ideas and how to weave them into a great essay.
Trusted and Experienced ACT Exam Tutors Near Me
For a student about to enter their collegiate years, taking the ACT or any other college admissions test is important for them to achieve their academic goals. They must also do well in order to enter their dream universities or colleges.
At Troy Tutoring Center, we are committed to providing students with all the attention, resources, and experience they need to prepare for any academic challenge they may face.
We use a unique learning strategy to help students focus better and pick up concepts, techniques, and strategies quickly, no matter what their learning pace and preference are like. Once your student takes on our ACT preparation tutoring classes, they will see an improvement in their skills, and they will become more confident in taking the test.
We don't just offer ACT preparation tutoring at Troy Tutoring Center. We also help students get enrichment and remedial tutoring for math, english, reading, and writing, no matter what level they may be. Our tutors are ready to personalize their tutoring sessions to fit your child's needs.
Free Consultation Today
As a student, it can be overwhelming to think about college admissions tests like the ACT, given its role in determining where you will go for college or university. If you need extra help or support, don't be afraid to reach out to the Bloomfield Hills, MI tutoring center that can help you get on the right path to success.
At Troy Tutoring Center, our ACT tutors are always ready to make your child's exam preparations stress-free and more efficient than self-study. We will make sure they take the exams with the right skill, strategy, and determination that will guarantee their success in the test. To learn more about our services, don't hesitate to reach out to us through our hotline, and we will provide you and your child a glimpse of our tutoring services which they will definitely enjoy taking for their academic goals.
Call Troy Tutoring Center at (248) 936-6359 for your Free Consultation with a Bloomfield Hills ACT Preparation Tutor!