Pontiac Private Tutors
Every student differs when it comes to how well they learn in any given environment.
Some students thrive in a group setting and are unafraid to learn on their own. Other students prefer learning on their own and still perform admirably in a group setting. But, there are students who require a more focused type of learning and need one-on-one attention and personalized learning.
If your child prefers to be taught on their own or requires extra attention, private tutoring with one-on-one attention is the way to go. But having a private tutor come to your house can be extremely expensive and require complicated scheduling to work around the needs of everyone in the household.
Instead, you can get the personalized, one-on-one attention your child needs at our tutoring center. Our tutors offer a free assesment of your child's learning style and needs, and then we'll schedule tutoring sessions where your child will get tutoring tailored to them and focused attention. They'll get one-on-one instruction and time to work on lessons so that they can study at their own pace while still keeping up with their peers.
Troy Tutoring Center's team offers the advantages of Pontiac private tutors while making learning fun again for your children. No matter what circumstances your child may have that prevent them from excelling in a crowded group setting, your child's tutor will offer one-on-one lessons to your child and inspire them to learn. We can teach them English, Math, Reading, and Writing, as well as help with their SAT or ACT preparations!
Call Troy Tutoring Center at (248) 936-6359 for your Free Diagnostic Assessment and Free Consultation with a Pontiac Private Tutoring specialist!
Benefits of Private Tutoring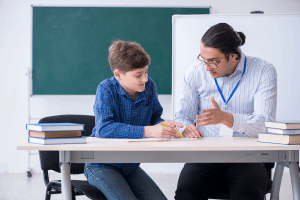 The one-on-one attention, focused attention of private tutoring can benefit any student, but there are drawbacks.
Hiring a private tutor to come to your home can be so costly that parents cannot even consider it for their child. Scheduling around every one in your household and finding a peaceful place in your home for extra tutoring can also be a challenge.
But if your child needs extra help to keep up in school or is gifted and seeks academic enrichment, it's important for parents to be able to help them reach their fullest potential.
ome even ignore this option for their child because they believe that it is an expensive service to. However, when it is clear your child needs the service for their academic needs, it is important to know its full potential.
Here are some of the most notable benefits of one-on-one tutoring for your children:
Our tutors will adjust their pace to suit the student.
Having private tutoring-like experience for your child guarantees that your child can learn at their pace and not feel rushed during their tutoring sessions. Our tutors adjust their pace and lessons to match their students, enabling the child to have the opportunity to ask questions without feeling rushed and learn the concepts thoroughly without being pressured to keep up with others.
Your child will get the tutor's full attention.
Sometimes in a classroom, it can be difficult for students to ask questions to their teacher because they have to compete with their classmates for the opportunity or they feel embarassed about not understanding a concept. Some may even feel neglected because their teachers cannot provide them with extra help. With one-on-one tutoring, students don't have to worry about being neglected or ignored. Our tutor will focus on their needs and go over lessons again if the student needs a review. Just like private tutors, our experienced tutors will take the time to discover what each student's learning style is and adjust their teaching methods accordingly.
Lessons won't just be about the curriculum.
In full classrooms, students only learn what is in the curriculum or lesson plan for the day. With one-on-one tutoring, students can learn beyond their school's curriculum for the year and learn other skills and topics they are interested in. For example, our tutors can teach students time management, organization, and critical thinking. They can also help their students overcome their learning weaknesses, such as memorizing math formulas, grammar and others.
Your student's private tutoring is flexible and convenient.
Our one-on-one tutoring is more flexible that private tutoring is also very flexible because it doesn't depend on finding time and space at your home where everyone else in the household is quiet and not causing distraction. Your child's tutoring schedule can be modified to accommodate their academic needs and the various other activities that they are involved in.
It inspires your children to achieve their goals and objectives.
Finally, one-on-one sessions with our tutors have the same advantage as private tutors in being able to inspire your child to create goals and objectives and slowly work their way to achieve them. Whether your child already knows exactly what they want and need, or if they need a little help discovering new goals and objectives, our tutors are ready to guide the way.
At Troy Tutoring Center, we offer Pontiac private tutoring benefits with lower cost and hassle. Our tutors are ready to work with both parents and students to create the best private-style tutoring setup for your child's grade level and learning style. We offer free assessments and the personalized tutoring that your child deserves.
Dedicated Pontiac Private Tutors for K-12 Students Near Me
If your child is not getting the focused attention they need to keep up with their classes or the extra enrichment they need to excel in their favorite subjects, don't hestiate to contact us to learn about the Pontiac private tutoring advantages you can get from Troy Tutoring Center.
We are the trusted Pontiac, MI tutoring center that offers flexible one-on-one tutoring services to K-12 students who need individualized learning for a variety of reasons. Whether your child is struggling in school because of a health issue or just because their learning style requires more focused attention, our tutors will assess your child's needs and work with you to create the perfect, customized learning plan that your child needs to keep up with their classes and excel further.
Like private tutors, our tutors work with students on a one-to-one level, which allows students to get all the attention and focus they require to pick up the concepts and techniques they need to excel in their classes. We can even help your child with their SAT or ACT test preparation, as well as offer enrichment classes if they need more instruction in subjects that particulary interest them.
Free Consultation Today
Getting a private tutor experience for your child shouldn't be an option that's out of reach because of your budget or time constraints. Private tutors can definitely help your child catch up with their peers and get the level of instruction they need to understand their studies better than learning in the classroom, but if they are too expensive, they are no help at all.
That's why we offer all the benefits of private tutors at our state-of-the-art tutoring center, Troy Tutoring Center.
If your child needs the indivual attention and focus of a private tutor, don't hesitate to reach out to us at Troy Tutoring Center. Our tutoring service offers one-on-one tutoring for all students regardless of their learning pace and academic goals. We will equip them with the right learning strategies that they can use throughout their life and be more active in their pursuit of learning. We can even help your child regain their confidence and love learning once more. Contact our Pontiac, MI tutoring center to find out more about our services and get your child started!
Call Troy Tutoring Center at (248) 936-6359 for your Free Diagnostic Assessment and Free Consultation with a Pontiac Private Tutoring specialist!