Washington Tutoring Center
Every child differs when it comes to how well they learn new concepts and subjects. Some can pick them well and require only basic instruction to get started. But for others, it is not easy to pick up the right skills and know-how in certain subjects, especially those with learning and behavioral disabilities. Because of this, parents and guardians must turn to one of the many Washington tutoring centers near them. If you want quality tutoring perfectly tailored to your child, Troy Tutoring Center is the tutoring center you should contact.
When looking for a tutoring center for your child, they must be able to engage directly with the child and adapt to their learning level and needs. No matter what subject it may be, instructors or tutors must be capable of helping students focus and concentrate on their classes and become confident with their skills. They must also be flexible to match the student's learning pace and not pressure the child in the process.
At Troy Tutoring Center, we are committed to providing one-to-one instruction that will help engage our students' minds and help them take a step closer to their learning goals. We will help your child catch up with their peers and excel. Our unique learning strategy will also help children develop their love for learning long-term.
Call Troy Tutoring Center at (248) 936-6359 today for your Free Diagnostic Assessment and Free Consultation with a Washington Tutoring specialist!
One-to-One Instruction for Washington, MI Students
Troy Tutoring Center offers personalized instruction for all K-12 students, including those with learning, behavioral and attentional disabilities.
We use a unique system and learning program, known as the Rotational Approach to Learning, that will allow each instructor to focus on what the students really need and give them the right learning environment that will help them succeed in the long-term. We will also provide our students with all the resources they need to boost their confidence and focus.
Here are the subjects where we provide one-to-one tutoring at Troy Tutoring Center:
Out of all the subjects in school, many students would say that math is their weakest subject. However, math is an important subject that is a foundation for many careers and can even be used in real life. Our tutors can help your children understand the concepts of the subject and its applications. We can teach basic math, algebra, calculus, and geometry using real-life problems so students can understand them better.
Although English is the first language for many students in the city, it's not always a guarantee that they can communicate well and have the right vocabulary and grammar. There can be many reasons why these students are unable to master English, but when you reach out to us, we can help our students slowly understand the language and develop the right skills to use the language in real-life situations.
Reading and Comprehension
In relation to English, our tutors can also help your children with their reading and comprehension skills. Depending on your child's reading and comprehension level, our tutors can teach them grammar and vocabulary, as well as give them a lot of practice at listening to English speakers through casual conversations.
Some children find it hard to write their thoughts because they do not know how to properly structure it. Our tutors can help your child learn the right skills that will help them organize their ideas, improve their grammar and create the right writing style that represents them.
Our tutors can assess your child's current academic level and personalize the classes that will help them focus on the lessons and get the most out of their classes. If your child needs tutoring for more than one subject, we will devise a program that will allow them to get one-to-one instruction from our instructors and provide them with all the tools and resources they need to succeed in their classes.
SAT and ACT Preparation
Is your child taking their SAT or ACT in order to get into the college of their dreams?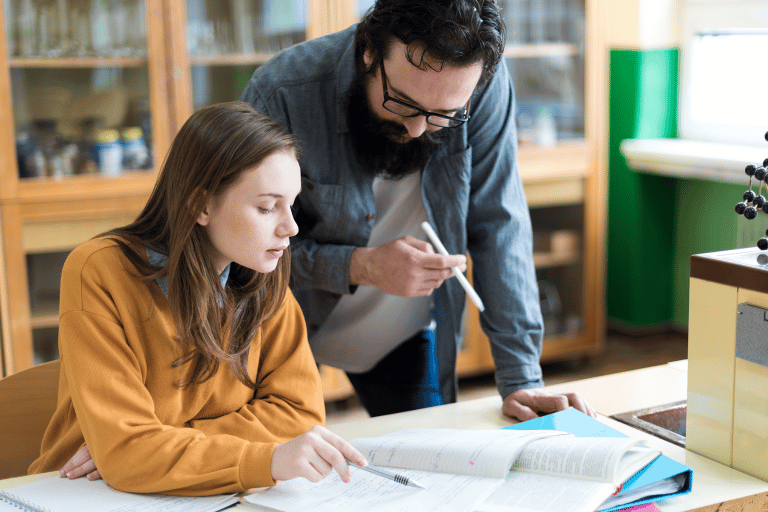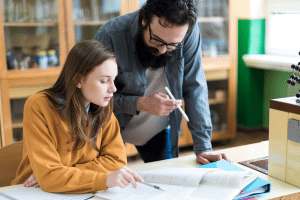 If that is a yes, it can be a stressful experience for them to prepare for either exam, given the importance of each exam to their chances of getting into the college they want. Each exam also focuses heavily on certain subjects, with the SAT heavily focused on math, while the ACT has a science section. There is also a time limit for each subject, and depending on the college your child wants to apply to, they may even have to deal with an essay or experiment to check their skills.
You can sign your child up for one of our SAT and ACT tutoring classes to get them ready for the exams. During our ACT or SAT preparation classes, students are given tips on how they can maximize their time in every subject and know how to prepare accordingly. We even have mock tests to give students a chance to experience the timing of the test in its entirety. Considering the stress our students will experience during the preparation classes; we will make sure they have rest days included in their schedule so they don't burn out, especially before the test day.
Private Tutoring Without the High Cost
Do your children learn at a different pace due to their attentional, behavioral, or learning disability? Do you want a flexible learning program for your child after classes?
Whichever your situation is, our Washington tutoring center also offers one-on-one tutoring sessions that gives all the attention and focus of private tutoring without the high cost and hassles. Our experienced tutors conduct a free assessment of your child to determine what they will need during their one-on-one tutoring sessions and create a program that is tailored to your child's schedule, abilities, learning style, and personality.
Our experienced tutors can even go beyond the lesson plan and teach your child new skills that they can't easily learn while in a busy classroom setting.
If you are on a budget, no problem! Our Washington, MI tutoring center offers affordable and flexible payment options that conform to your budget.
Why Choose Us?
Every tutoring center and service varies when it comes to how they teach children and accommodate their academic goals and needs.
For us at Troy Tutoring Center, we use Rotational Approach to Learning to help our students, a unique program we originally conceptualized to help children with learning, attentional and behavioral disabilities like ADHD and ADD. Through our research and experience, using this program enabled all children to achieve academic success and focus more on their studies no matter how long their lessons would take, where it is done and how many instructors are in the session.
When you reach out to us, we promise that the program will help your child become more focused and confident with their academic skills, as well as learn to love learning even outside of school. We will tailor the program to your child's needs, and we will always make sure you get reports to see your child's progress.
Free Consultation Today
As parents, we want to give our children all the opportunities available for them to succeed in life. With additional tutoring, we can help them keep up with their classes and move closer to their academic goals no matter what their learning preferences are. Tutoring can also help our children become more confident about their skills and become more engaged in all aspects of learning.
Our Washington tutoring center is always ready to present you and your child with our programs and personalize them to suit your child's needs. If your child needs one-on-one after-school tutoring in any subject, let us know, and we will show you why our tutoring services are highly rated by many families across the city. We look forward to working with you!
Call Troy Tutoring Center at (248) 936-6359 today for your Free Diagnostic Assessment and Free Consultation with a Washington Tutoring specialist!