Birmingham Reading and Comprehension Tutors
When a student starts school, one of the first subjects they will need to take is reading and comprehension. Reading enables students to absorb any text they are given, while comprehension focuses on their understanding of what they just read. Without reading and comprehension, it will be difficult for any student to succeed in all their subjects and life in general.
Every student develops their reading and comprehension skills at different paces. Some are trained at an early age to read and comprehend text. Others will need assistance to get started in the subject, and there are a few who find it difficult to keep up at all without practice and intense attention from a teacher. Whatever your student's situation is, hiring experienced Birmingham reading and comprehension tutors can definitely provide them with opportunities outside the school to master the skill and excel in the subject.
At Troy Tutoring Center, our students are given a flexible and comprehensive reading tutoring experience to help them reach their academic goals. Our reading tutors can immediately determine what reading level each student is enrolled in our tutoring center and formulates the right tutoring session that will get them started. We guarantee that your investment is safe with us, and your child will show a vast improvement in their reading and comprehension skills even after just a few sessions with us.
Call Troy Tutoring Center at (248) 936-6359 for your Free Consultation with a Birmingham Reading and Comprehension Tutor!
Understanding Reading and Comprehension with Birmingham, MI Reading Tutors
When people hear about reading, they often think it is the same as comprehension since they often go together. Reading actually entails translating text and saying it verbally.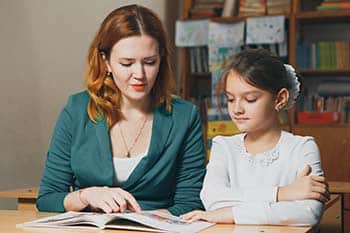 Comprehension, meanwhile, focuses on understanding the meaning behind the text and providing thoughts or arguments. But, before a person can comprehend what they are reading, they must be able to read well.
The meaning of reading and comprehension may sound simple, but not all people can pick up its cues immediately. As a result, they will need reading tutors like us at Troy Tutoring Center to master the skill and become successful in the process.
Down below are some of the reasons why reading tutors are essential to your child's overall success:
Reading tutors can help your child become more focused on honing their understanding of the subject which can help them learn other subjects like science, social studies, and literature. Tutors can help your child learn the right tricks to understand any text and gain a deeper understanding of what they are reading.

Reading tutors can also help students strengthen their self-esteem by helping them be confident with their reading skills. These tutors will design the perfect learning environment for their students, who will guarantee that they can learn at any pace and still keep up with their peers. A higher self-esteem and confidence can help your child be more confident as a reader and participate in discussions wherever they may be.

Reading tutors can focus on your child's development more closely than their teachers back at school. Thanks to the one-to-one instruction system used in tutoring, tutors can determine their student's strengths and weaknesses better and provide feedback on how they can be improved.

Reading tutors can also inspire students to build a love for reading. As their reading and comprehension skills improve, students will be more adventurous with the text they will read and explore new ideas in the process.
Troy Tutoring Center is dedicated to providing the perfect reading tutoring environment for all our students. The environment we will make with them will make sure they become inspired to learn further and be more confident in themselves.
ACT/SAT Reading and Comprehension Preparation Tutors
For students preparing for the ACT and SAT, they will need to allot time to prepare for the reading and comprehension part of the exam. Both exams use a variety of passages to test a student's understanding of the topic provided and be able to argue or present their opinion, which is crucial once they enter college.
We offer mock exams for anyone preparing for these exams to give them a sense of how this part of the exam can go and what kind of questions they need to answer. We can also provide them with tips and strategies to understand the question better and identify the best answer possible. Our tutors can also provide feedback to students, so they know which areas they still need to improve on and get the supplementary classes in the process.
We also support our ACT/ SAT reading and comprehension students with lessons on vocabulary, grammar, reasoning, and essay writing.
Experienced and Trusted Birmingham Reading and Comprehension Tutors Near Me
Reading and comprehension is not an easy subject to master, and students will need a guide who can explain its concepts and provide resources and real-life examples to foster interest. Our Birmingham reading and comprehension tutors are the perfect guides for students whether they need help keeping up with their peers or they want to expound their skills further.
Our Birmingham, MI tutoring center wants all our students to get all the opportunities possible to master the skill at their specific learning pace. We will make sure that they understand the concepts and rules well before we proceed to the next lesson. Our tutors will also give their 100% attention to students in our one-on-one tutoring sessions, which will inspire the students to do better and become more confident with their classes.
We also provide ACT/SAT reading tutoring sessions for our students if they need it, including them in mock exams and offering the resources they need in the process. We can also provide children with a comprehensive tutoring program that will cover other subjects they may need additional support for, such as math and writing. Simply let our tutoring team know what your child needs, and we'll discuss the best program for your child before they get started.
Free Consultation Today
To truly enjoy and master English or any language on Earth, it is important for people to hone their reading and comprehension skills at an early age, if possible. Children pick up new concepts easily through reading, and as they read, they will slowly be able to analyze the information they read and know its meaning.
Let our Birmingham reading and comprehension tutors guide your child in honing their reading and comprehension skills and open a new world for them to explore and enjoy. Our reading tutors are ready to create the perfect learning environment for your child, and we guarantee that you will see a great improvement in their grades and even in the way they see the world. Contact our Birmingham, MI reading tutoring center through our hotline to find out how to sign up your child for our reading tutoring classes and the other subjects we also offer through our tutoring service.
Call Troy Tutoring Center at (248) 936-6359 for your Free Consultation with a Birmingham Reading and Comprehension Tutor!